Chris Brown and DJ Drama Drop "In My Zone" Mixtape
For those that were ready to blame DJ Drama for the delay of mixtapes such as Fabolous, he shows that he has no problems with meeting deadlines.
Teaming up with Chris Brown, the duo drop In My Zone, a Valentine's Day treat from the Mechanical Dummy as he continues to try and find a way to deliver material and force the support back into his fans.
Following the footsteps of Trey Songz, the singer provides his adaptation of recent smash hits such as "Turnt Up", "Invented Sex", "I Wanna Rock" and "How Low" along with his originals like "No BullShyte".
"Invented Head"
[audio http://hiphopwired.com/wp-content/uploads/2010/02/chris_brown-invented_head.mp3]

"No BullShyte"
[audio http://hiphopwired.com/wp-content/uploads/2010/02/chris_brown-no_bullshit.mp3]

Let's just be thankful that he didn't drop his edition of Jay Electronica's "Exhibit C" because everyone must be drained from that overused instrumental.
[Check after the jump for the tracklisting and download for In My Zone]
Download mixtape here: http://www.livemixtapes.com/mixtapes/11305/chris_brown_in_my_zone.html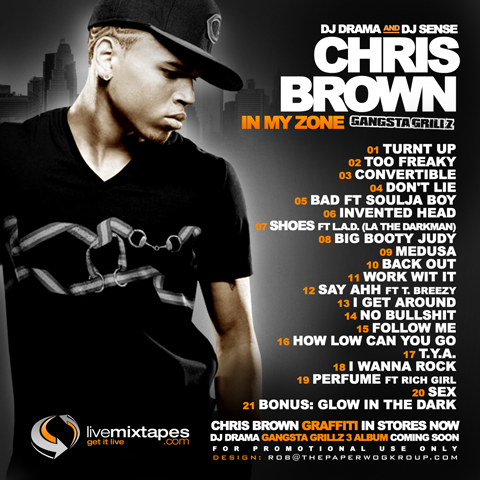 MORE ON HIP-HOP WIRED!
• Martin Lawrence Puts $26.5 Million Mansion Up For Sale [PHOTOS]
• NYPD Lieutenant Costs City $1.5 Million In Settlements, So Far [PHOTOS]
• The 20 Most Slanderously Funny Pics Of The Miguel Leg Drop Meme [PHOTOS]
• 2 Chainz Parties In Miami To Celebrates 8 BET Award Nominations [PHOTOS]
• Beyoncé Shares Photos Of Cuba Trip & Criticizes Pregnancy Rumors?
• The 24 Hour Turn Up: Drake Runs Amuck In Miami [PHOTOS/VIDEO]